We've been getting lots of calls, emails, and text messages asking what the impact of COVID-19 has been on the Denver real estate market.  People are wondering if the value of their home is going up or down, if they are going to be able to buy/sell a home, if they will be able to get a loan or a refinance, and so much more. This article should get many of your questions answered!
One thing is crystal clear, though: home has never been more important.  There has never been a time in our lives when we have relied upon our homes more completely. We eat and sleep in our homes--and our homes have now also become our schools, our offices, our gyms, our movie theaters, our places of worship, our barbershops, and so much more.
For those who need to buy or sell a home right now, we're here to help. Helping people is at the heart of what we do.  
We're here for you,
The Schlichter Team
Can People Buy and Sell Real Estate in Colorado?
Yes--real estate transactions are still happening. There are local and state guidelines that limit certain activities related to real estate transactions, though. The state's Stay at Home order stopped showings for a period of a few weeks, which temporarily halted many new real estate transactions, but that order has since been lifted (for now). 
While different counties have different restrictions, generally speaking showings can take place, but some of the safety guidelines are that properties must be disinfected between showings, open houses and overlapping showings are prohibited, social distancing must occur, and tenants and people with health vulnerabilities cannot be asked to leave a house for a showing. These guidelines have been changed nearly every week, and often the rules and the guidance contradict themselves. 
So, if you're thinking about selling or buying a home in the near future, just be prepared have flexibility with rapidly changing rules!
How is the Market?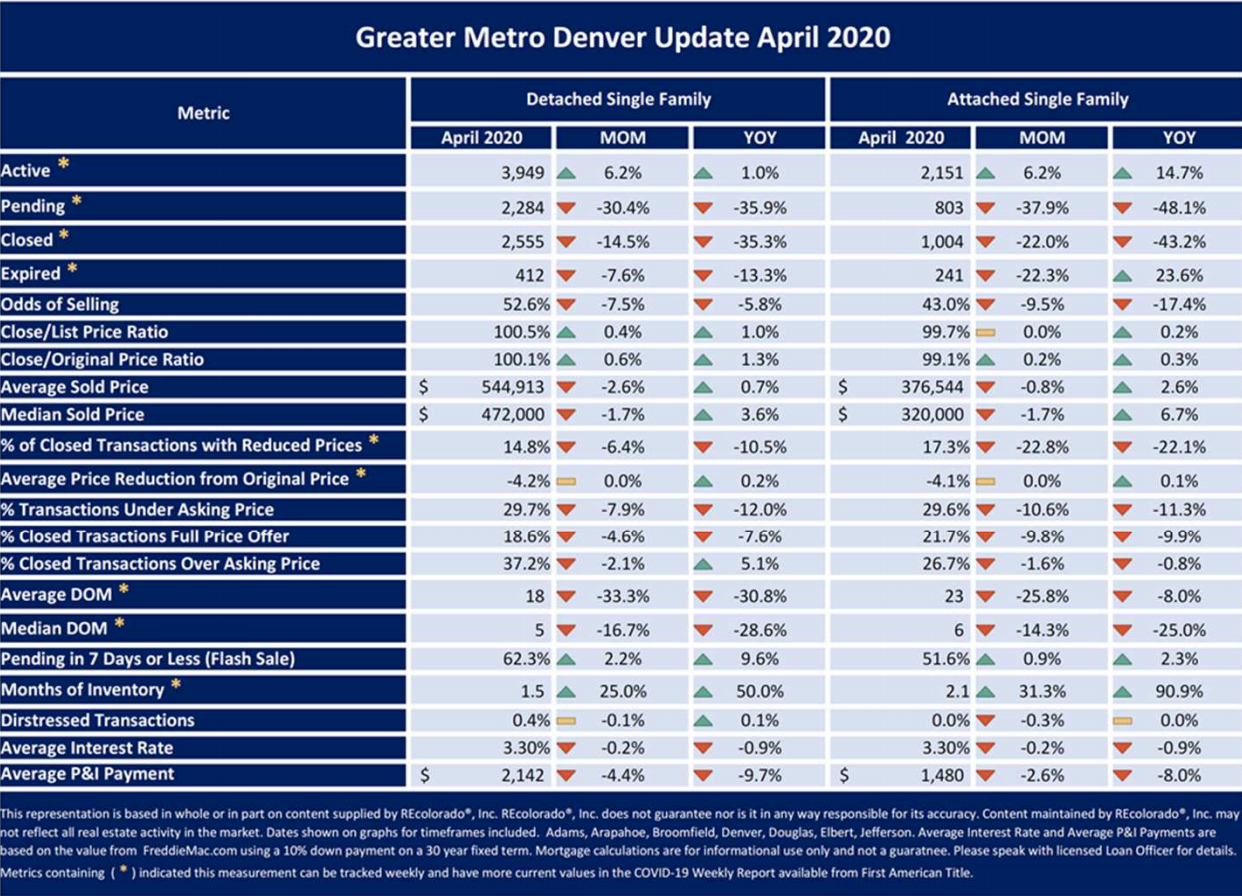 (Chart courtesy of Megan Aller, First American Title Company.)
The market is stronger than many might expect! Prices are slightly up year-over-year. The number of closed sales in the metro area took a major hit in April, falling 35% year-over-year as the coronavirus and stay at home orders took hold in Colorado. Now that Stay at Home has shifted to Safer at Home, we are seeing a substantial uptick in showings and would expect the June closed sales numbers to show a bounce back in terms of closed transactions.
Denver continues to be a seller's market with only 25% of the homes for sale that would be needed for a balanced market. The overall shortage of inventory, paired with strong buyer demand, is providing a cushion for home values. Below the $600,000 price point we are in a very strong seller's market. At the higher end of the market, the balance of power is more even, and in the highest price ranges we are currently in a slight buyer's market. 
You may be surprised to find out that low interest rates now are making homes more affordable this year even though prices are higher than they were last year.  For those in a starter home who are looking for more space and have the ability to buy this spring/summer, this might be a very good time to upsize to take advantage of the selling in the competitive lower price range, buying in the less competitive upper price range, and leveraging very low interest rates.
Contact us if you'd like to know how the market data impacts your unique situation.
What's Happening with Lending?
Earlier this week we recorded a video conversation with Jennifer Fairfield, Senior Vice President of Mortgage Lending at Guaranteed Rate.  We asked her questions about what is happening with rates, what mortgage forbearance is and if people should pursue it, if it is harder to get a loan given the economic situation, what is happening with refinances, and more. You can watch the twelve minute conversation
here
!
Virtual Agent Services
For those who want to conduct a real estate transaction but want to limit their in-person exposure, we have the ability to conduct 100% of a real estate transaction virtually. From virtual showings to virtual closings, enhanced digital marketing to 3-D virtual tours, click here to learn more about the suite of virtual services we offer our clients!