Farmers Market Season is Here: Our Picks for Denver's Best
Our team understands that helping our clients find a home with the kitchen of their dreams is only as good as the ingredients put in it! We're lucky that Colorado is home to amazing locally grown produce, choice cuts, scrumptious baked goods, and carefully concocted extras. So as spring heats up, here's an update on where you can enjoy Denver's vibrant farmer's market season and delicious-ify your pantry!
Our top picks:
South Pearl Farmers Market
When: Sundays, May 1–Nov. 13, 2022; 9 a.m. to 1 p.m.
Where: 1400 + 1500 blocks of South Pearl Street (between Iowa and Arkansas)
The charming South Pearl neighborhood hosts one of Denver's best Sunday markets. You can rely on fresh staples like Palisade peaches and roasted chilies, but also gourmet artisan items like cheese and sweet treats. Live music every weekend and a vibrant atmosphere help make this a great place to connect with the neighborhood.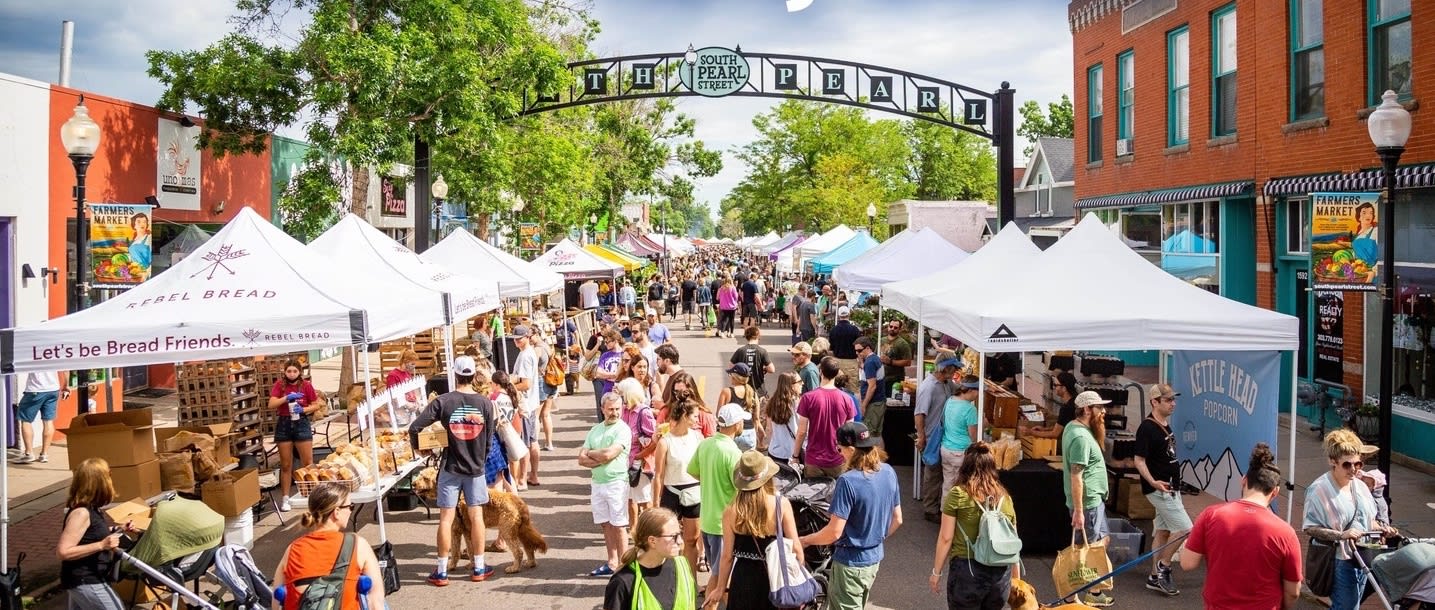 Photo Credit: South Pearl Street
Boulder Farmers Market
When :Saturdays, Apr. 2–Nov 19; 8 a.m. to 2 p.m. Wednesdays May 4–Oct 5; 4 p.m. to 8 p.m.
Where: 13th Street between Canyon Boulevard and Arapahoe Avenue, Boulder
Boulder's market has been an anchor for local food and community for nearly 30 years, but is excellent enough to warrant a drive from Denver and surrounding areas. Named as one of the top 20 in the country by readers of USA Today, it features great sights, sounds, and smells to go along with delicious tastes. Fill your tote with the best local produ
ce and gourmet goodies around, or fill yourself with ready to eat food from local restaurants. A great place to enjoy our beautiful state!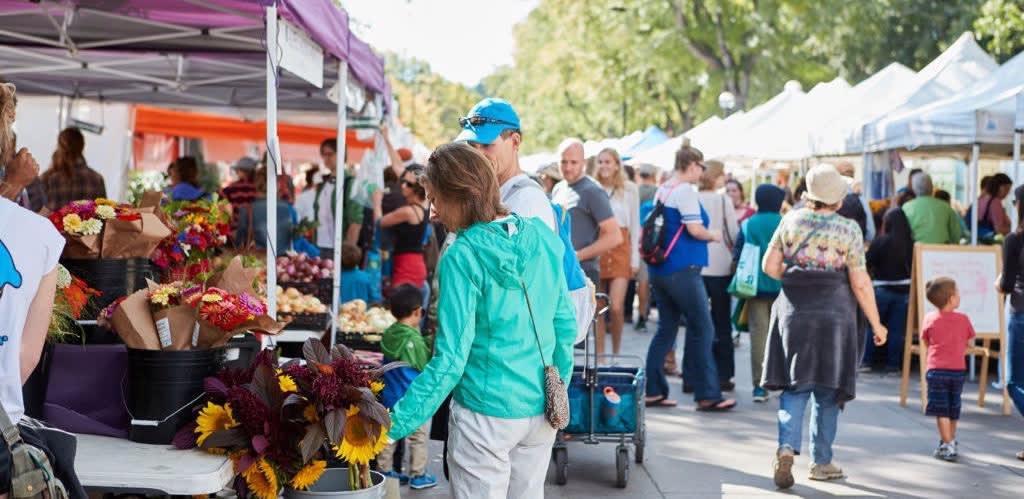 Image Credit: Boulder Country Farmers Market
Highlands Farmers Market
When: Sundays, May 22–Oct. 16, 2022; 9 a.m. to 1 p.m.
Where: Highlands Square at West 32nd Avenue and Lowell Boulevard
The Highlands Farmer's Market is a winner if you'd like to bring along your four-legged friend. There's a fill-a-bag of produce for $10 booth, flowers, organic meats, jams, salsas, breads, pet booths- you name it! Local food trucks provide brunch options and there are quaint local shops to explore. Parking is usually available in the surrounding neighborhood streets.

Photo Credit: South Pearl Street
Additional Denver Metro:
Cherry Creek Fresh Market
When: Wednesdays & Saturdays, May 7–Nov. 5, 2022; 9 a.m. to 2 p.m.
Where: E. 1st Ave. and University Blvd.
The Cherry Creek Fresh Market is perennially considered at the top of the city. Here you can explore a high-quality mix of Colorado growers, from produce to protein, and unique local gourmet food vendors. Chef events, gardening tips, and live music bring a festive outdoor atmosphere. Also, parking is FREE!
City Park Farmers Market
When: Saturdays, May 14–Oct. 29, 2022; 8 a.m. to 1 p.m.
Where: City Park Esplanade (E. Colfax and Columbine St.)
Serving locally grown foods in the heart of Denver with a focus on neighborly environmental and economic good. The City Park Farmers Market features 60+ Colorado-based vendors offering locally made goodness for the entire table, live local music, and prepared dining options.
University Hills Farmers Market
When: Saturdays, May 14–Oct. 29, 2022; 9 a.m. to 1 p.m.
Where: 2500 S. Colorado Blvd.
Pasta, honey, and gourmet roasted coffee are some of the many local flavors you can find in addition to fresh produce, baked goods, and meats.
Surrounding Denver:
Golden Farmers Market
When: Saturdays, June 4–Oct. 8; 8 a.m. to 1 p.m.
Where: Golden Library parking lot, 1019 10th St., Golden
Neighborhood market celebrating its 20th year. This market is a great hub to fuel up when exploring the world class bicycle trails surrounding Golden's scenic foothills.
Parker Farmers Market
When: Sundays, May 8–Oct. t.b.d.; 8 a.m. to 1 p.m.
Where: 19565 Mainstreet, Parker.
Mainstreet on Sunday morning packs some serious flavor with over 100 vendors from near-by to across Colorado. Also a great place to pick up some beautiful plants and flowers. Dig into some on-site cooking and leave your tastebuds satisfied!
Longmont Farmers Market
When: Saturdays, Apr. 2–Nov 19, 2022; 8am -1pm.
Where: Boulder County Fairgrounds, 9595 Nelson Road, Longmont
For those of you living further north of the city, the Longmont farmer's market is a noteworthy stop if you're looking for fresh local vegetables and fruits, artisan cheeses and breads, and local honey. The market is very kid friendly with regular crafting activities and face painting. And if you'd like to partake in a bit of morning frivolity, there are wine and bourbon sampling booths to go along with live music. Don't mind if I do!
We hope this helps you enjoy the best tastes in town during our spring/summer season!