January is always a month for starting fresh, setting goals, and creating resolutions for the new year. The majority of people set personal and professional goals and resolutions, but have you ever made them for your home? Over the past few years, we've spent more time at home than ever before, and most of us have come to realize that our homes need some work!
Five New Year's Resolutions For Your Home
1: Get Organized

Image Credit: Tom Howley (L) & The Home Edit (R) via Pinterest
Getting organized is one of the most common New Year's resolutions, and January is a great time to start. Most people start the new year by organizing and cleaning in some way; putting decorations away, preparing for the new semester, unpacking after a trip back home or a vacation.
We suggest you start by deciding which approach you are going to use: the room-by-room method or the tidying by category method, otherwise known as the KonMari Method™.
Room-by-Room
Ask yourself the following questions: what room frustrates you the most? What room overwhelms you the most? What room do you avoid showing to friends and family? Once you have settled on a starting point, it is time to make a game plan. Although it will vary room-by-room, we have created a basic step-by-step approach that should apply to the majority of spaces.
Step 1: Declutter
Prepare six boxes/bins/baskets for these six purposes:
Put away: for items that you are going to keep in the room

Relocate: for items that you are going to move to a different room

Trash: for items that can immediately be thrown out

Recycle: for items that can be recycled

Fix: for items that you want to keep but need to be repaired

Donate: for items that you can donate
Note: if you don't have six boxes/bins/baskets you can always make piles instead!
Choose a starting point in your first room and work your way around the room methodically. Once you have cleared out all of the drawers/cupboards/shelves, it is time to move on to step two.
Step 2: Clean
With everything out of the cupboards and drawers, this is the perfect time to do a deep clean. Clean the inside and outside of any cupboards, drawers, shelves, and so on, before you put everything away again.
Step 3: Plan
Now that you know what you have and what space you are working with, it is time to organize.
Use post-it notes to map out where everything should go.
Step 4: Put Away
Now that you have decluttered, cleaned the space, and have planned out where everything will go, you can start to put everything away. If things are already starting to feel cluttered again, we recommend using dividers and other storage solutions to keep everything organized and tidy. Matching hangers, stackable storage bins, drawer dividers, storage baskets, storage containers, and a label maker, are all things we would recommend.
Step 5: Maintain
Organization requires maintenance, but by creating a great system, it should take you far less time to do this. Keep things organized as you go, make sure that everyone in the household knows the new system, and make to-do lists.
KonMari Method™
Marie Kondo's method encourages tidying by category, instead of location. If you have decided to use this approach we suggest reading the 6 Rules of Tidying to understand the principles behind the method. We love this approach as it places such importance on being mindful, introspective, and forward-looking.
2: Complete Home Renovation Projects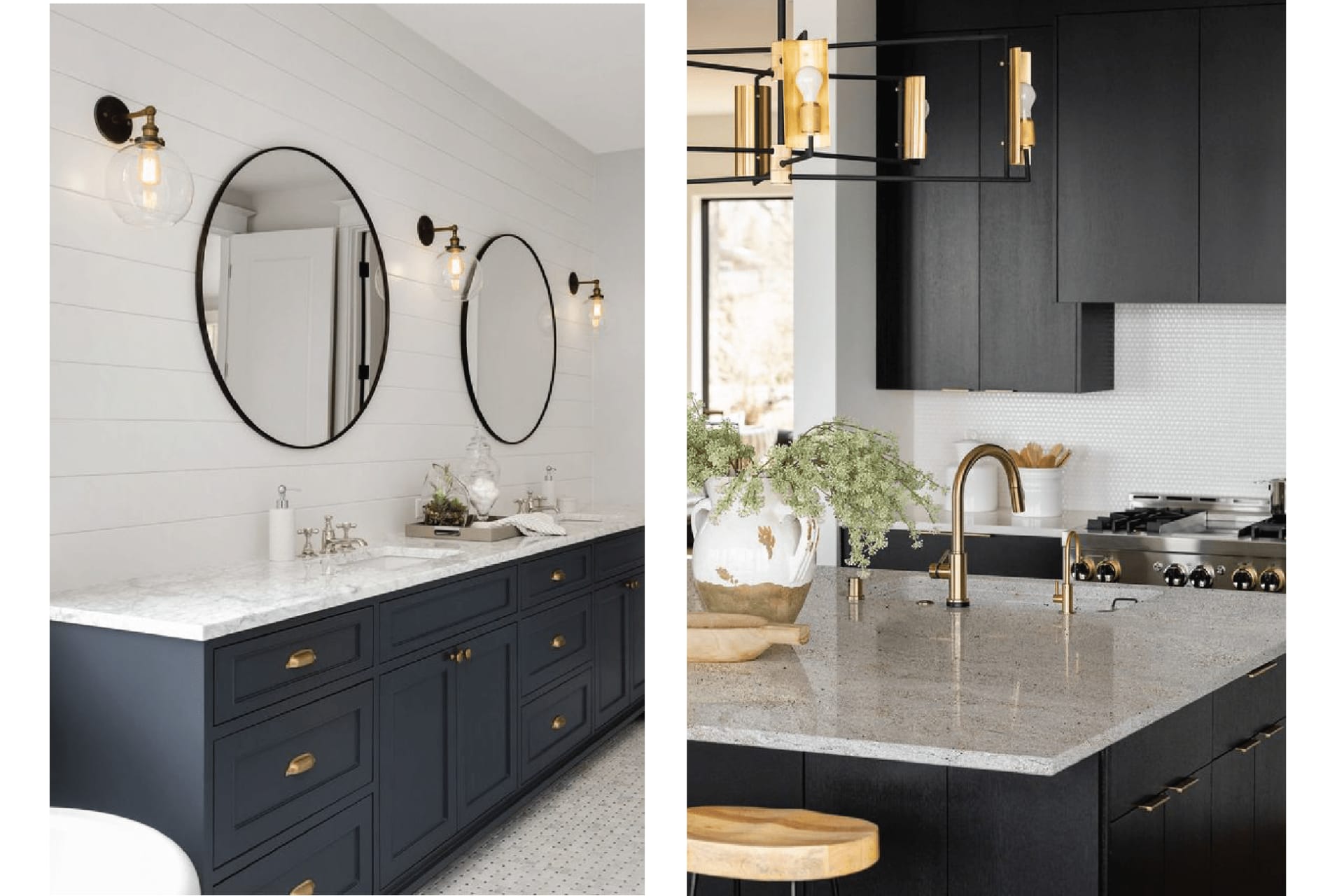 Image Credit: Unknown (L) & City Homes (R) via Pinterest
We all have a list of projects we want to do but never actually get around to doing, so why not make 2022 the year you finally complete the project you have always wanted to do? We recommend making a list of everything you want to do and involve all members of your household in the decision-making process around what the number one priority is. Once you have decided on what project you want to tackle, you will need to start to plan.
Things to consider:
Budget

Timeline

What time of year will be best to carry out the project

What can you do yourself vs. what will you need to hire for

Supply chain issues and delays

Return on investment
Don't forget that not all projects need to be big- installing new drapery and drapery hardware, or changing the backsplash in your kitchen can often have a big impact.
3: Invest In Your Outdoor Space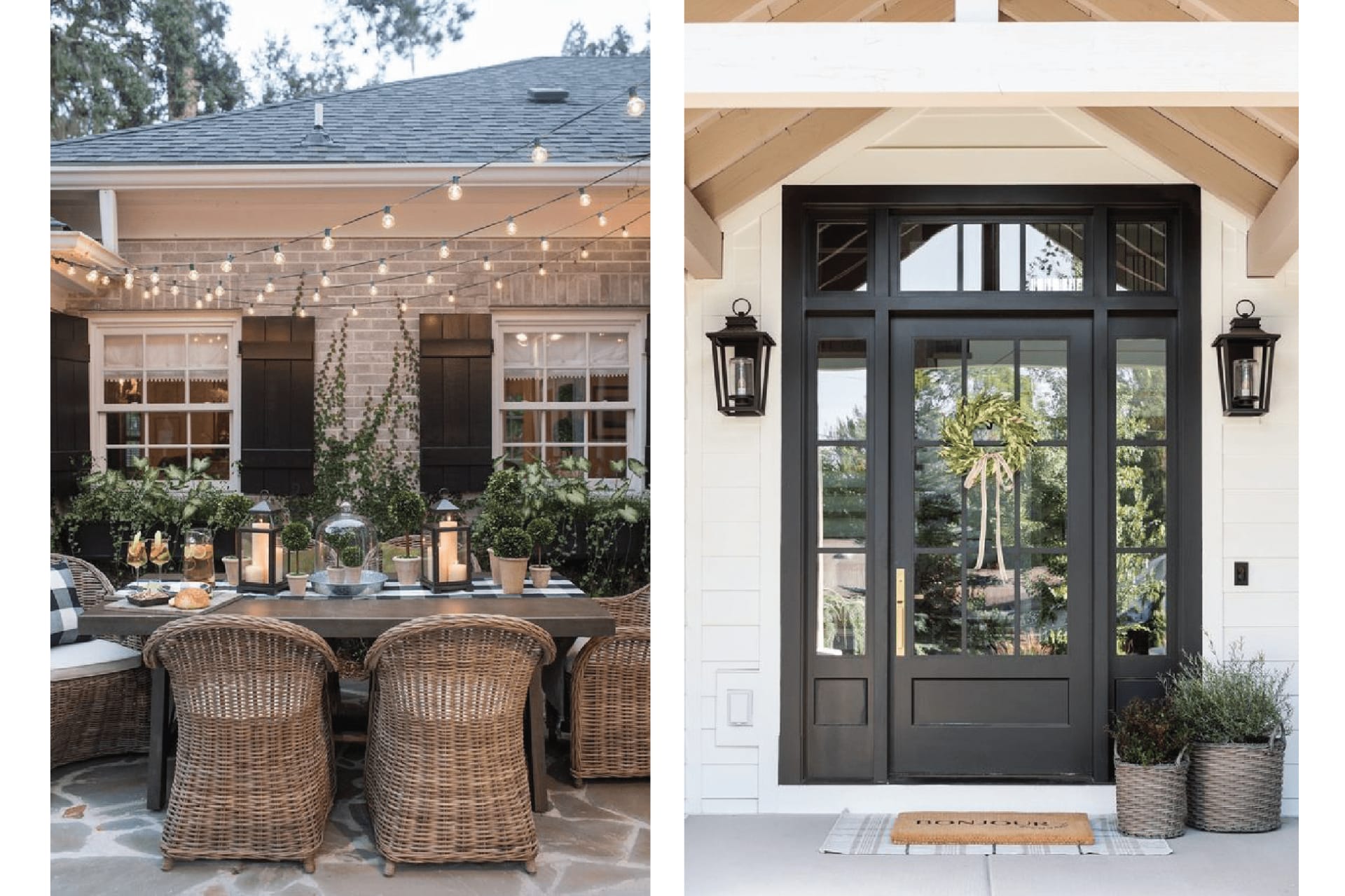 Image Credit: Lavin Label (L) & Studio McGee (R) via Pinterest
Spending more time at home means more time in your outdoor spaces too. Outdoor living isn't just for the warmer months, you should make your space work for you, year round. Whether it's scheduling maintenance jobs in advance to ensure the outdoor areas are in good condition, or re-landscaping your entire backyard, prioritizing your outdoor space as much as your indoor space is always a great resolution to have.
You don't have to limit yourself to your backyard either. Improving your home's curb appeal doesn't have to be a project for getting your house ready to sell, why not make your home as inviting as possible for yourself? Sprucing up the front of your home will give you a newfound sense of pride and pleasure every time you pull into your driveway!
4: Make Your House Your Home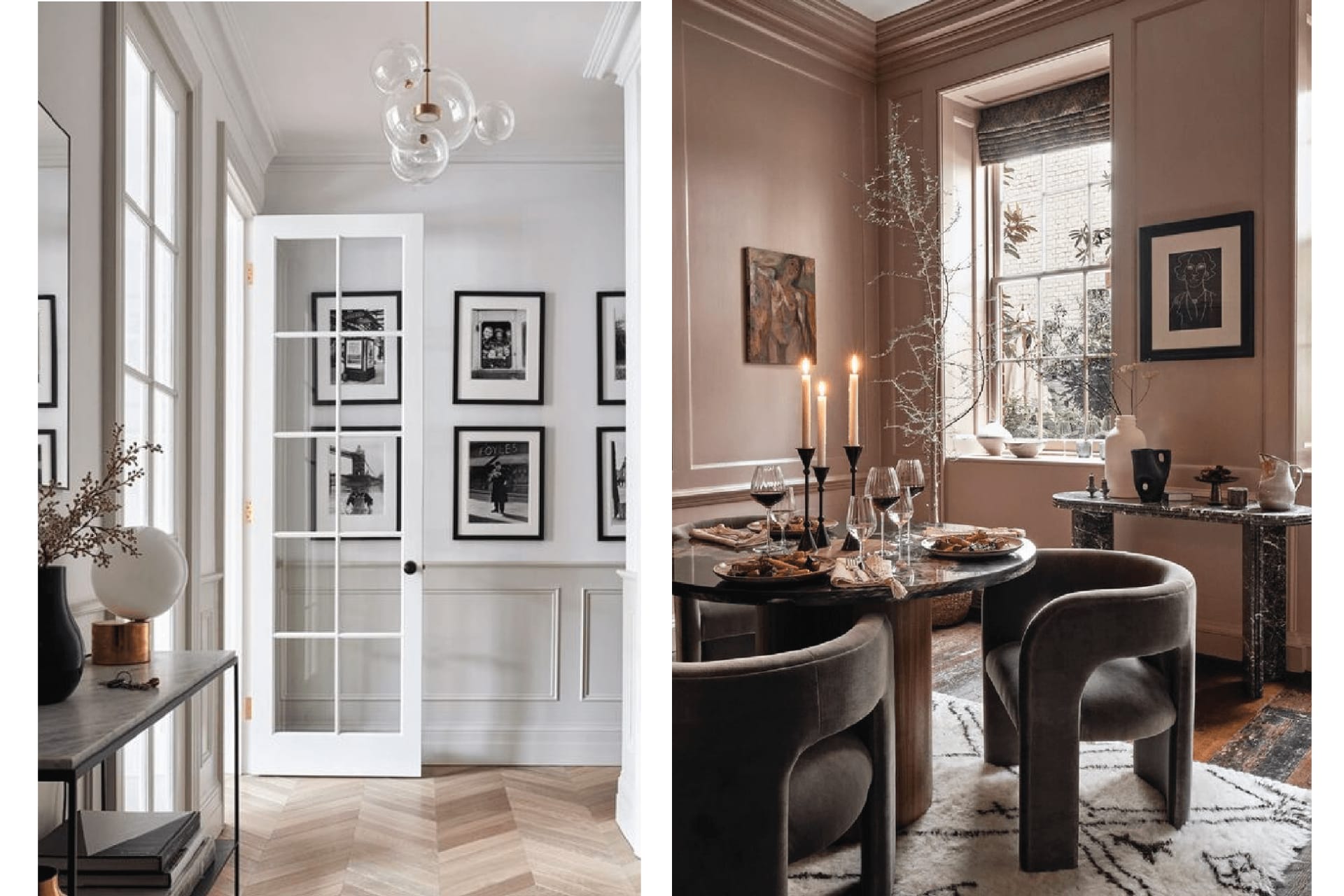 Image Credit: Davide Lovatti/Future (L) & Soho Home (R) via Pinterest
What do you love? What makes you feel comfortable and at ease? What do you look forward to at the end of a long day? What makes you happy? Your home should be your sanctuary and asking yourself those questions should help you figure out what you need to do to make your house your home. There are lots of easy ways to make your house feel more like home, from hanging photos and artwork, to adding coffee table books that reflect your personality.
5: Find Happiness In The Little Things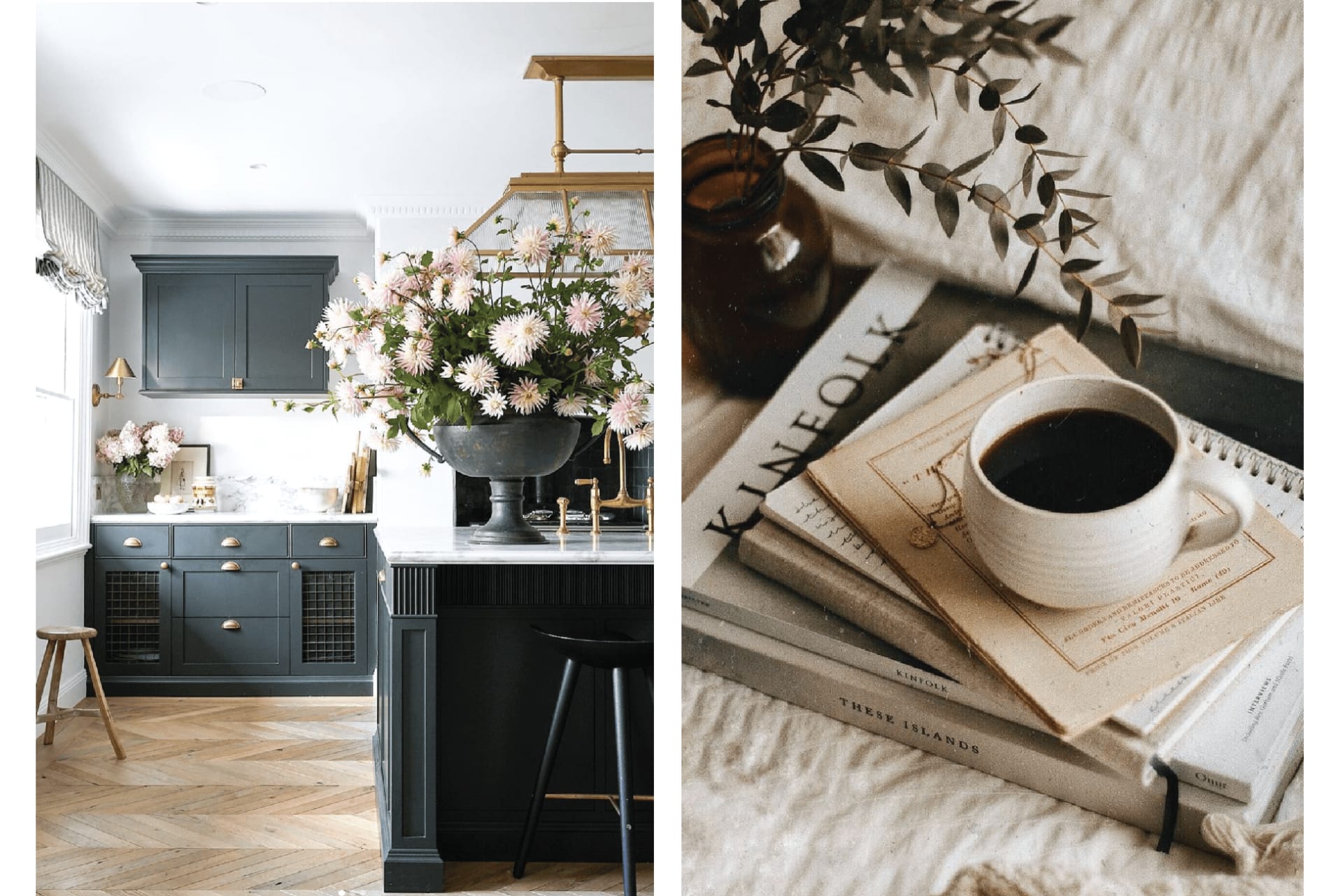 Image Credit: Steve Cordony (L) & Unknown (R) via Pinterest
The more time we spend at home the less we are able to separate our busy lives from our personal space. This year, why not try to find happiness in the everyday little things that you usually take for granted? The start of the year is a great time to reflect on the small things that bring you joy in your home and think of ways to bring a bit of happiness to the everyday.
If you love your morning coffee at home: upgrade your coffee mug and create a morning ritual for yourself
If you are spending more time working from home: add a little luxury to your work day by lighting your favorite scented candle at your workspace
If you can't wait for the spring bloom: buy fresh flowers every week to brighten your days at home
If you really appreciate your evening bath: treat yourself to some new towels and a luxurious new bathrobe
We hope you are feeling inspired to make some home resolutions of your own this year!
If your New Year's resolutions involve buying, selling, or investing in real estate, please be in touch today!