Denver Real Estate Market Report: Cheesman Park, Country Club, Morgan's Historic District, and Congress Park
By David Schlichter
Mortgage interest rates on 30 year fixed-rate loans just dropped more than half a percent to a national average of 6.62% yesterday as a result of cooler than expected inflation numbers! This is great news in the near term for both buyers and sellers, though while we hope this might give confidence to the Fed to ease the pace and length of interest rate hikes, nobody definitively knows what will happen over the next 12-18 months.
What we do know is that over the last 10 years, every now and then prospective clients would hold off on purchasing a home because they didn't want to buy "at the top of the market." Over that same period, home prices more than doubled, and many of those prospective clients missed out on hundreds of thousands of dollars of equity gains.
Lately, we've also come across some people who are holding off on buying and/or selling because they worry that interest rates are too high. What many people don't know, though, is that the average interest rate from the last 50 years was 7.76%, so interest rates are actually still more than a percentage point below their average on a historical basis.
In times like these, it is worth reminding prospective buyers and sellers that there is a simple truth in investing: time IN the market generally beats timing the market. While inevitably there will be short term ups and downs in any market, the trends are clear: Denver as a metropolitan area is expected to continue to grow rapidly, and there is still an extreme housing shortage locally and nationally. Both of these dynamics lead us to continue to believe that, in the long run, the more time you are an owner in this market, the better.
In volatile times like these, the experience of a trusted advisor is more important than ever. Please reach out today if there is anything we can do to be helpful to you.
Cheesman Park, Country Club, Morgan's Historic District, and Congress Park: Market Update
In an ordinary year, fall and early winter are typically the "coolest" part of the year for real estate activity--prices typically drop, the number of active listings is typically lowest, and days on market typically increases. Those dynamics all have been accelerated as a result of the unprecedented rise in interest rates over the last year, and the last time we had this many homes for sale in an October, for example, was 2013.
Buyers
This is the kind of market you've been yearning for for years. There are substantially more homes to choose from, our clients are often getting properties for below the asking price (and even getting sellers to pay for their closing costs or interest rate buy-downs), and they are usually getting sellers to take care of inspection items that arise during inspection--dynamics which were virtually nonexistent earlier this year in the blazing hot spring market. Usually the market gets more competitive in the late winter and spring, and interest rates will likely be higher then, too. So now (yes, right now) might be the best time for you to find and purchase a home if you're in the market!
Sellers
We have an exceptional track record of getting our seller clients more money as a percentage of their asking price than the average agent does. And in a market like this, you should work with the best agent possible if you want the best results. The market is still strong, and it is our hope that the market will bounce back even stronger in the new year. Sellers who have a pressing need for liquidity may want to list their homes sooner rather than later to lock in the equity gains of the last decade, especially if they are concerned about the economic conditions and/or want to use their proceeds to find and buy a replacement home. Sellers who have a higher risk tolerance and don't need their proceeds to purchase a replacement home may want to wait to list until the late winter or early spring in the hopes that prices will have rebounded by then.
Cheesman Park, Country Club, Congress Park, and Morgan's Historic District: Neighborhood Activity
Cheesman Park, Country Club, Congress Park, and Morgan's Historic District: Market Stats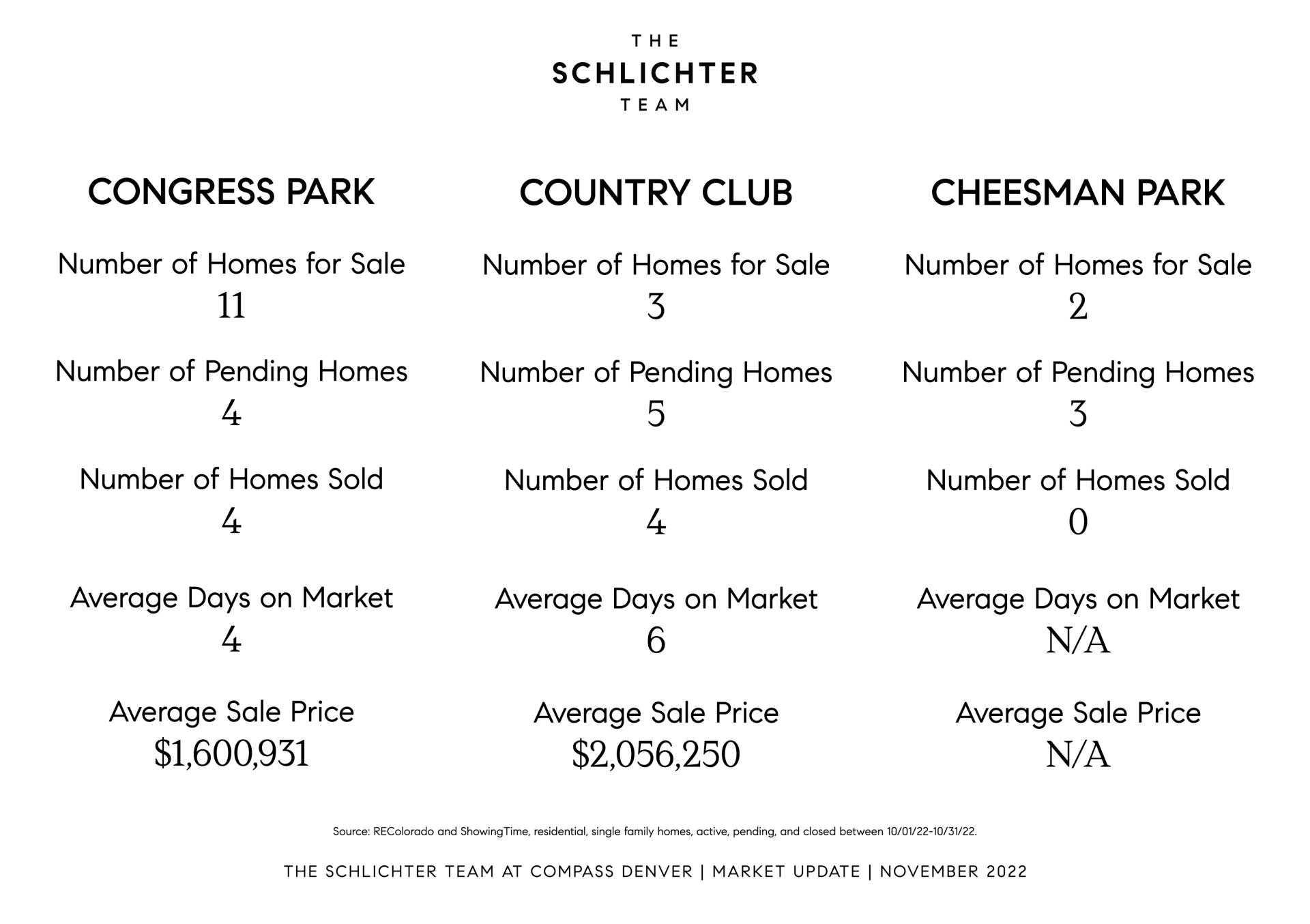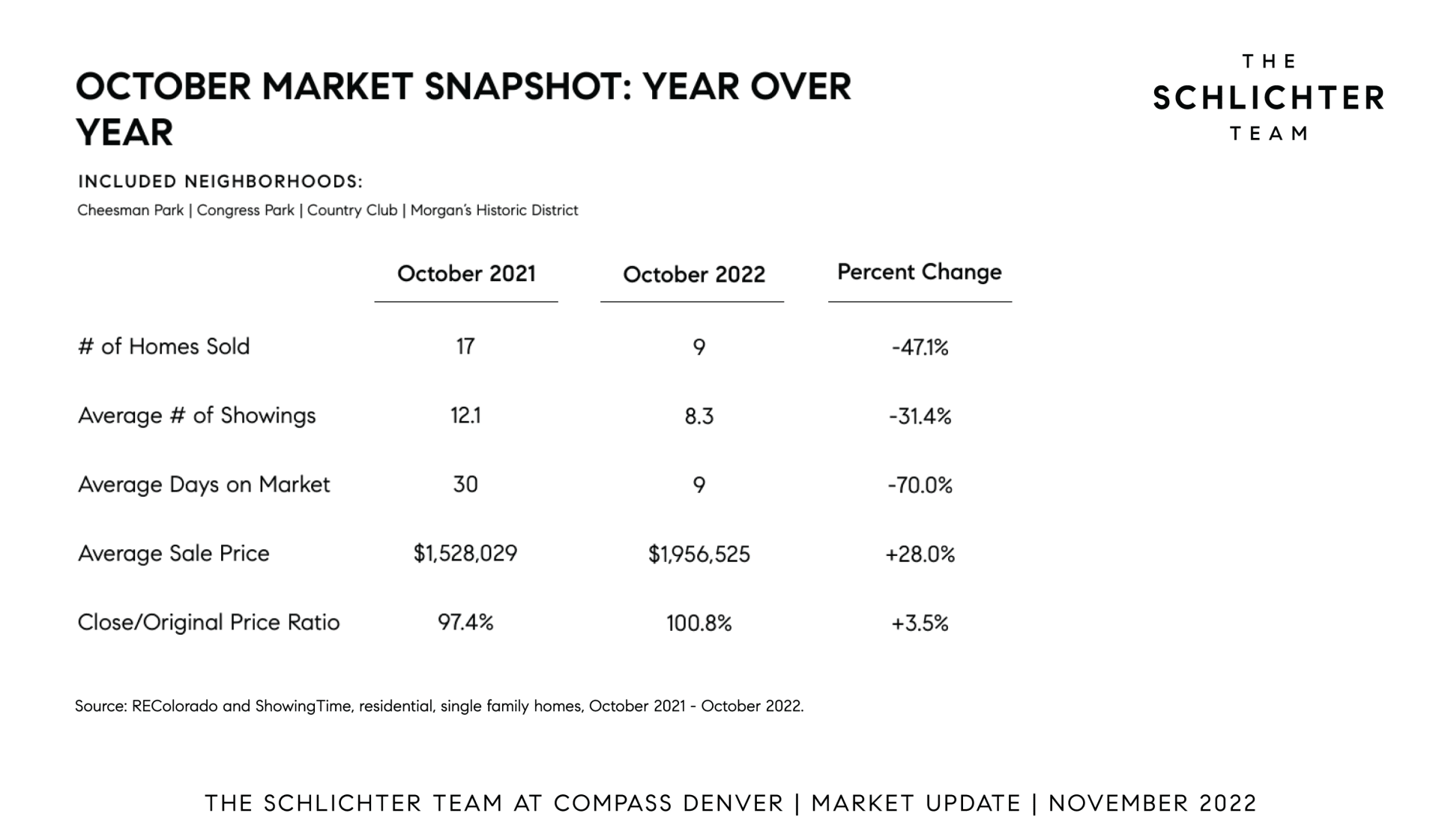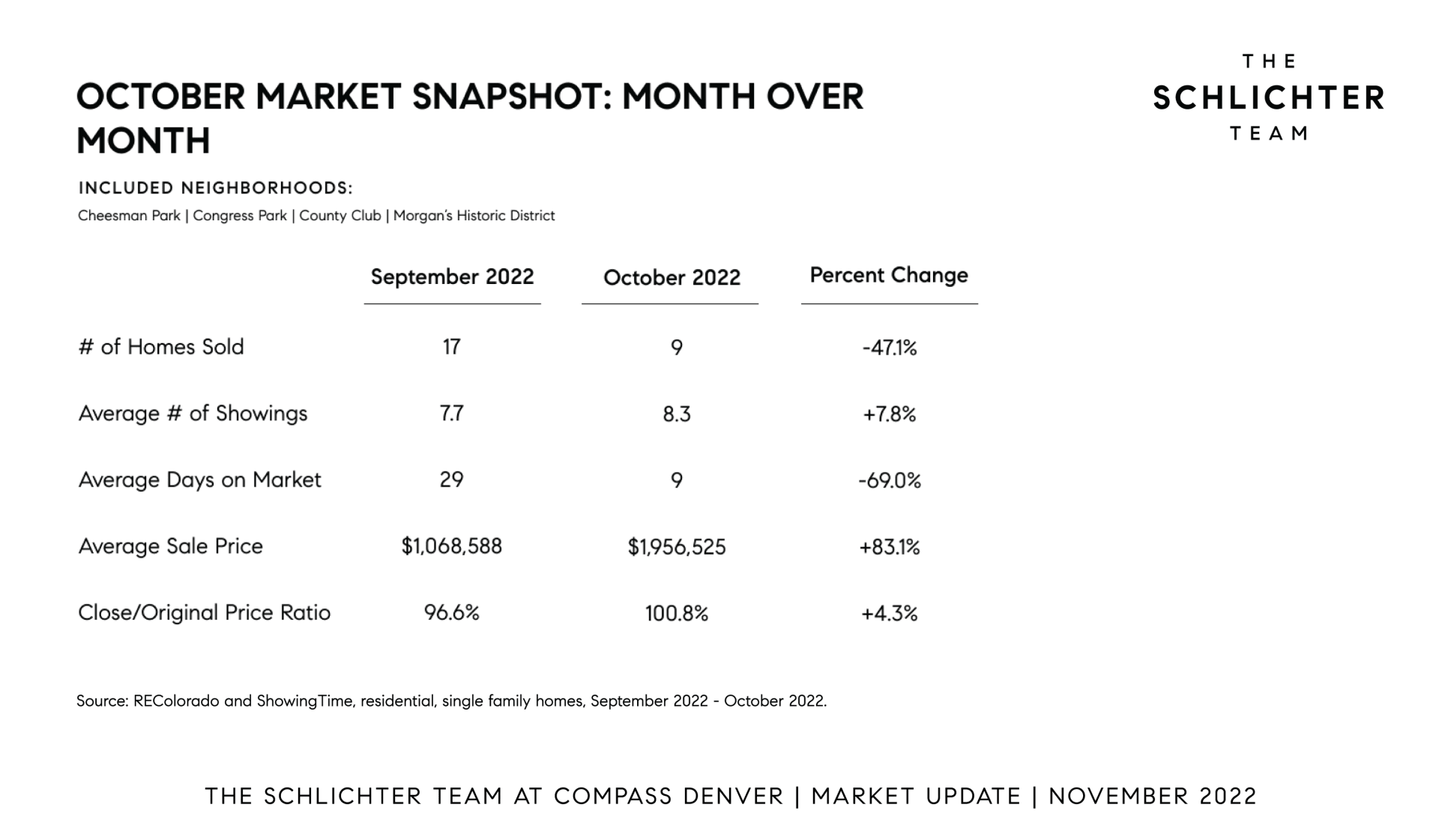 Denver Metro Area: Market Stats